When:
Sep 15, 2014 @ 1:00 pm – 2:00 pm
2014-09-15T13:00:00-07:00
2014-09-15T14:00:00-07:00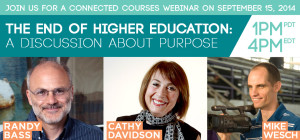 September 15, 2014 1 PM PST/3 PM CST/ 4 PM EST via Google Live Hangout.
Participants: Mike Wesch, Cathy Davidson, Randy Bass
Title: The End of Higher Education
Description:  As shrinking budgets, skeptical publics, and rising alternatives continue to threaten the end of higher education, we host this conversation as a contemplation of what the end – or purpose – of higher education should be.  We will also reflect on how individual teachers might find their own core reason for teaching a specific class, and ways to build buy-in to that reason among students.
Presenters will take questions via Twitter hashtag #ccourses