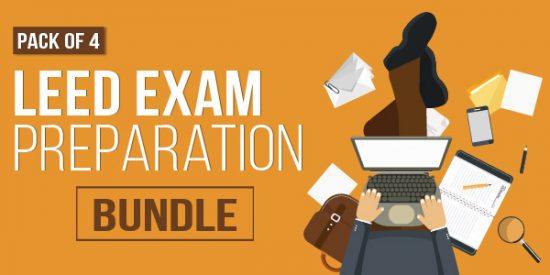 Pack of 4 – LEED Exam Preparation Bundle
---
Instructors
Country
United States
Email
Date(s) course is being taught
Description
Courses Included In The Bundle
LEED Green Associate V4 | Exam Preparation Course | English
LEED Green Associate V4 | Exam Preparation Course | English
Start with this comprehensive course to begin your studies of sustainability and green building using the LEED Rating System.There are no eligibility requirements to be LEED Green Associate – LEED GA! all you have to do is to take the course and book for your exam! The course is provided in both English and Arabic languages.
The LEED course was prepared by a USGBC approved instructor "USGBC Faculty – Karim Elnabawy. USGBC® Faculty are experienced educators with a strong background in professional education, training, and facilitation in green building and sustainability development.
The following are some insights to the course content:
Pass your LEED Green Associate exam from your first attempt
Understand LEED Rating system in detail
Learn more about LEED Accreditation and Certification levels
Test your knowledge with Quizzes after each chapter
Receive study hints for how to pass the exam from the first time
Receive a full study plan for your LEED preparation
Learn the sustainable credit categories along with strategies: (Integrative process – Location and Transportation – Sustainable sites – Water Efficiency – Energy and Atmosphere – Materials and Resources – Indoor environmental Quality – Innovative design – Regional priority)
Understand the synergies between each credit category and find out the trade-offs
Receive certificate of completion from Simpliv after completing all course videos, quizzes, and test
Receive – upon request and for additional cost the following:
Reference letter from the instructor to be used as a supporting document for your academic studies, work, or as an additional certificate in your CV including curriculum in detail attested by USGBC and GBERA initiative
Receive certificate of completion attested by USGBC and GBERA Initiative
After training On-going support
Receive access to support Facebook group
Receive a copy of presentation slides in PDF formats
For platinum, Gold, and silver bundles: Receive a special promotional discounts on other training workshops, courses, and practice exams and questions offered by the instructor that are posted from time-to-time
live training and special workshops can be organized too. For more information, contact the instructor in a message.
How to be LEED Green Associate in steps:
Watch Preface introduction to LEED Rating System
Take a LEED Green Associate Course or Workshop
Study and take simulation exams and practice tests
Register on USGBC and Pay for the exam
Follow the instructions on USGBC and schedule the exam
Go for the exam with confidence
This course can guide you on a detailed steps with instructions for how to register and schedule your exam. This course will also cover the whole study plan for your exam preparation.
Get ready to start your sustainability journey.
General notes:
The course is provided by karim Elnabawy – GBERA "Green Building Education and Research Academy" and it took a huge amount of time and effort to be developed in a way that will allow students benefit from them. The course is not allowed to be distributed outside Simpliv by any means. Only sharing the official link to the course is allowed
Screenshots and downloading videos is not allowed
GBERA is not affiliated with the U.S. Green Building Council® or Green Business Certification Inc.™ and does not administer the LEED AP® /LEED® Green Associate™ program. USGBC and GBCI do not endorse or recommend the products or services offered by GBERA
LEED AP® and the LEED AP logos are trademarks owned by the U.S. Green Building Council® and are used with permission
LEED® Green Associate™ and the LEED Green Associate logos are trademarks owned by the U.S. Green Building Council® and are used with permission
Learn more: https://www.simplivlearning.com/bundle/pack-of-4-leed-exam-preparation-bundle