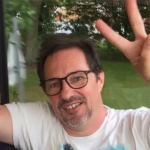 Since arriving in France, by accident, 26 years ago, and discovering I quite liked teaching English, I have been knitting my diverse learning episodes which include:
failed bell-ringing, recurrent history studies, quasi-professional work in sales, public relations, acting, counselling…
into my educative and research practice today.
Since 2008, I have been developing my online personal learning networks and a curiosity for connected, rhizomatic learning.
I am currently an English teacher at the Université Blaise Pascal Clermont Ferrand in France, an associate member of the Laboratoire de Recherche sur Le Langage and am working with my friends in the CLAVIER network to grow transformative, connected environments for  language learning.
I am @sensor63 on Twitter, I blog on Touches of Sense and swirl on Google Plus.
Pour les francophones mon site est  Taches de Sens.