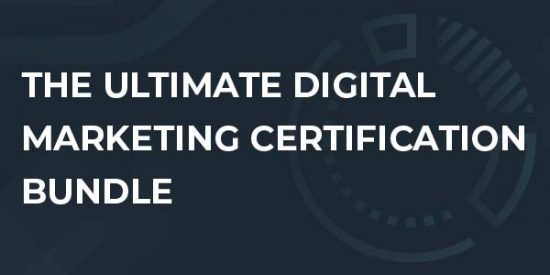 The Ultimate Digital Marketing Certification Bundle
---
Instructors
Country
United States
Email
Date(s) course is being taught
Description
Courses Included In The Bundle
Unleash the Organic Power of Facebook – Business Marketing Strategies
Unleash the Organic Power of Facebook – Business Marketing Strategies
Marketers spend a lot of money online to advertise to get traffic to their online assets such as web pages, blog pages, lead capture pages, etc. But did you know that with a bit of proper setup and some work over time, you can get a lot of exposure and traffic to your online assets organically on Facebook?
In this lecture series I show you step by step how to set things up to have Facebook work for you organically so that you get a good volume of traffic to your websites and blog sites that you don't have to pay for.
I won't kid you, this takes work on your part. But if you are willing to work at it, you can see some great targeted traffic coming at you that will generate sales for you without having to spend money on advertising.
Many people use Facebook in bits and pieces – only using some of it's capabilities. I don't know it all yet myself – I keep learning as I go, but I know quite a bit now after having studied the platform in-depth and what I teach in this course will take you a long way.
I have learned some great strategies for selling on this platform on limited budgets – Sign up for this course and you'll know how to do it as well. See you on the inside!
Best wishes,
Dan Grijzenhout – Course Creator
Who is the target audience?
Small business or home business owners wishing to increase product or services sales online
Worth $ 49.99 $9.99
Social Media Marketing Strategies for Business Owners
Social Media Marketing Strategies for Business Owners
Looking to grow your own brand through social media?
Having trouble gaining followers who like, comment, and share your content?
Not really sure how to increase your presence on social media?
Whatever your motivation to start and increase your brand on social media, you've come to the right place.
This is a Comprehensive Guide to Social Media Marketing Strategies
Are you ready to get more business leads using Facebook, Twitter, Pinterest, Instagram, LinkedIn, YouTube, Google+, and Live Streaming?
Are you ready to build connections with customers via social media?
You'll learn how to drive sales, attract new customers and master social media (the right way).
Social media sites such as Facebook, Instagram, Twitter, LinkedIn, Youtube, Pinterest, Periscope, Blab, and Google+ all have thousands of customers waiting for you.
The objective is to be everywhere. Create a unified front and gain followers across all social media channels.
What does this course give you?
Introduction to social media marketing strategies before diving into specific platforms
Facebook marketing strategies
Twitter marketing strategies
Instagram marketing strategies
Pinterest marketing strategies
Reddit marketing strategies
Discover the power of business branding
Discover the power of customer engagement
The key is to create a brand that is consistent across all channels.
Click the "ADD TO CART" button straight away at the top right of this page because every second you delay is costing you money.
Who is the target audience?
Students with 1,000 or less followers
Students who want to start building a social media following
Worth $ 49.99 $9.99
Google Analytics & Reports Demystified for Beginners
Google Analytics & Reports Demystified for Beginners
Google Analytics has become an integral part of Business and Marketing in most of the organizations. Having the right level of knowledge of Google Analytics will help stay ahead of the others in your organization.
In this course, you will learn how to use Google Analytics to measure the performance of your website and marketing programs. We'll cover the most essential, out of the box functionality from account creation to reporting fundamentals and also, how to glean insights from the vast array of data available. This course will make it easy for you to build upon and learn Advanced Google Analytics.
You will learn
1.What is Web and Digital Analytics – get the foundation right
2.How does Google Analytics work
3.Getting started with Google Analytics – installing on your website
4.Understand Google Account Hierarchy and Structure
5.Connect with a Demo Account – eCommerce site – those who don't have Google Analytics can get all GA functionality in this demo account and gets hands on training and experience.
6.Create Views and Filters
7.Overview of various reports
Home Screen
Audience reports
Acquisition reports
Behavior reports
Campaign reports
8.Create Goals in Google Analytics – measuring success of your marketing efforts
9.Learn how to track campaigns in Google Analytics
10.More added frequently
I have worked with Google Analytics since it's first version and taught the classes since then. I teach in a way that even a beginner (with no background) can understand and lead the content to to more advanced level content.
Note: This is a beginners course and meant for those who want to learn Google Analytics.
This course applies to everybody from individual running their blogs to people working in the corporations. If you are looking to start a career in Digital Marketing or Analytics, this course is a must fro you. You will learn the skills you need to analyze your website performance and visitors.
Note: This course will keep evolving for nest few weeks based on the feedback I get from students. So stay tuned for messages from me and send me your questions. My goal is to provide you the best experience and learning!
Why you should learn from me?
I have been in Digital Marketing and Analytics for over 15 years. I have trained people from diverse backgrounds and have converted them into high performing Digital Marketers and Analysts. I understand both the technology and marketing side of business. I have dealt with many analytics technologies way before Google Analytics, Google Tag manager, Facebook etc. existed and know the inner working of Digital Analytics.
In addition, I have developed various course and taught students from all over the world. I am online instructor for University of British Columbia (Canada), University of Washington (USA), Bellevue College (USA) and Digital Analytics Association.
I have an engineering degrees and an MBA.
Who this course is for:
Anyone who wants to Learn Google Analytics
Anyone who wants to measure the effectiveness of their digital marketing
Worth $ 49.99 $9.99
Instagram Marketing 101 – How to use Instagram for Business
Instagram Marketing 101 – How to use Instagram for Business
WHY INSTAGRAM?
Instagram has over 1 BILLION (1.000.000.000+) users and has over 500.000.000 active daily users.
Insanity, right?
Do I need to say anything more to be on Instagram? If you are a business, an entrepreneur or just a person who wants to share their ideas, journey, service, products etc. on the internet
…then you NEED TO BE ON INSTAGRAM.
In this course, I will show you how to get started with Instagram and how to start building an audience and following on this platform.
Interested? If yes, continue reading…
You will not just learn how to set up an account BUT you will learn everything from optimizing your account to getting leads and potential clients.
You will learn
How to set up an account
How to use the different features of Instagram
How to create content
How to grow your exposure
How to optimize your account for leads
… many more
Just check out the curriculum down below for more details.
You will learn how to grow an Instagram account THE ETHICAL way.
NO fake likes
NO fake followers
NO fake comments
especially NOT a "How to get rich by using Instagram…"
No experience, No problems
I specifically designed this course for beginners. If you did not use the app until now, it's no problem. We start off with the very basics and go more into the advanced tactics of Instagram Marketing.
At the end of the course, you will see my cases studies on how I grew accounts from ZERO. You will see what mistakes I made so you will not repeat them.
Requirements:
Smartphone with Instagram app installed
PC or laptop
Internet connection
willingness to apply and practice the methods taught in this course
This course is recommended for
Small business owners, social media managers, entrepreneurs, travelers, photographers, digital nomads, companies who want 'to go online'.
Businesses who want to start an Instagram account or have less than 10000 followers. Persons who want to start building their own brand.
WARNING
This course is not for skeptics, lazy, people who want to make money fast on Instagram.
If you are not willing to put in the work but you expect to your Instagram to grow magically…then sorry, my friend…THIS COURSE IS NOT FOR YOU
Who this course is for:
Social Media Managers
Small and Medium sized business owners
Anyone who wants to learn how Instagram works
Anyone who wants to market on Instagram
Companies who want to market on Instagram
Entrepreneurs
Worth $ 49.99 $9.99