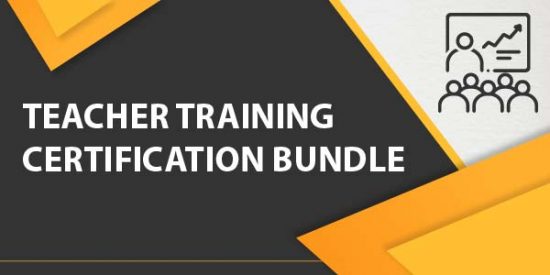 Pack of 10 – Teacher Training Certification Bundle
---
Instructors
Country
United States
Email
Date(s) course is being taught
Description
Courses Included In The Bundle
How to Teach Online 24/7/365
How to Teach Online 24/7/365
Introduction
A survey conducted by the Babson Survey Research Group regarding online learning showed that the number of students enrolled in one or more online courses was nearly 7 million in 2011. This was more than a half million increase over 2010. At the college level, 32 percent of students are taking at least one online course.
As online education literally explodes, the issue facing the education system is that teaching online is not the same as teaching face to face. If you're a teacher, be it home school, public school, Bible study teacher, or someone who teaches a special skill or subject, you know this.
The question for many people wishing to transition to teaching in a virtual classroom is a very simple one: How do I do an effective job of teaching online?
That's the question this course is designed to answer. In this course, University of Phoenix Advanced Certified Online Instructor David Lantz walks you through the teaching strategies being used by the best online college instructors to teach in an asynchronous online course.
Lesson Materials
A total of 17 video lessons divided between 3 course modules constitute the core of the learning materials. These videos are recorded power point presentations converted to video designed to emphasize key learning objectives. Additionally, each module is accompanied by an ebook (PDF) designed to round out the video presentations. Each module is introduced and concluded by a video of the course creator, David Lantz.
A fourth module, Next Steps, concludes the course, and offers several other resources the student may wish to take advantage of.
Depending on the pace of the online learner, one should plan to spend about four hours going through the materials.
Course Organization
The course is divided into three modules. The first module, Creating a Culture of Self- Discipline Online, is designed to help you learn how to motivate your students to develop the self-discipline required to learn in the online environment. This module is, in turn subdivided into three parts.
Learning Modality and Student Motivation
Establishing Participation Expectations
Building an Online Community
The second module, Managing the Online Classroom, recognizes that online facilitation involves three basic areas of focus: organizational, social, and intellectual. The instructor, therefore, should see his or her role as being that as a facilitator of online learning, rather than simply the "Sage on the Stage." This module is also subdivided into three parts.
Socratic Teaching: How to Teach by Asking Questions
It's ALL About What you Say and How You Say It
Online Interaction: Best Practices
The third module, Preparing to Teach in the Flipped Classroom, examines the trend of having the student access the "lecture" via video/online instruction created by the instructor or another educator before coming to a face to face class. The role of the classroom teacher changes from Lecturer to Mentor. Rather than spending time teaching in class, the instructor uses learning-based activities. Doing this effectively requires the teacher to put a lot of effort into his/her course preparation up front. This module delivers the following three sessions:
Enabling Your Students to Learn 24/7/365
Creating Your On Demand Unidirectional Materials
Exploring an Asynchronous Learning Management Classroom
Why Take This Course
The explosion in online learning requires educators who know how to teach online. Key research findings about student learning in the online classroom underscore the importance of having instructors who can manage the online classroom to insure that students learn. Online facilitation involves three basic areas of focus: organizational, social, and intellectual.
How to Teach in the Online Classroom 24/7/365 covers all three of these aspects of online instruction to prepare you to teach online.
About David Lantz
Hello, my name is David Lantz. I've been teaching online at the college level since 2004. I was voted Faculty of the Year by the first graduating class of the Indianapolis Campus of the University of Phoenix. In May of 2012, I was awarded that school's Advanced Facilitator Certification. In addition to teaching online for University of Phoenix, I teach for 3 other schools on such subjects as statistics, economics, E-commerce, and public relations. Five years ago, I set about the process of showing others how to teach online. I worked with my first pilot group of 8 students over a four week period to demonstrate best practice techniques for online, asynchronous teaching. With Simpliv's powerful online course delivery system, I now have a way to take what we did in that prototype class and demonstrate the art of online instruction via video and downloadable text instruction.
Welcome to my course!
Who is the target audience?
Are you a teacher – be it home school, public school, Bible study teacher, or someone who teaches a special skill or subject who wants to learn how to teach online? This course is for you
Worth $ 49.99 $9.99
How to Write a Lesson Plan: Easy Guide For Aspiring Teachers
How to Write a Lesson Plan: Easy Guide For Aspiring Teachers
How to Write a Lesson Plan: Become a qualified ESL teacher, write your own lesson plan and learn how to organize your lessons for interactive class. Learn how to write the four types of lesson plans to boost your teaching career.
One of the many challenges in classroom teaching is writing a lesson plan on a daily basis. Once you get to know how to write it, it's going to be an easy task for you and it gives you the freedom to manipulate your lessons the way you want it to be.
I have seen many ESL teachers fail in delivering their lessons effectively leaving their students' half-baked lessons and unsatisfied due to the fact that they don't know how to properly organize and write their own lessons. Although lessons are readily available and all that is needed to be done to teach it. But, not all lessons are effective in all classes, you need to tweak the lesson and make it your own to adapt to the needs of the students. Each student level requires a different lesson plan, there is no one lesson plan that fits all the student's level and needs.
This course is designed to help the individuals who are planning to shift their career into teaching and the aspiring teachers who would like to venture into the world of teaching and education. In this course, you will be learning the four different types of lesson plans and how to write it. You will also learn how to write the four types of lesson plans that you can use to deliver a personalized lesson to your students. Each lesson plan format is different and is applicable to different levels of learners.
As a professional teacher with more than a decade of teaching, I am very passionate to help you get started in your teaching career as a classroom teacher or maybe an online ESL teacher. This course will not only open the gates of knowledge for you but will also guide you through the process of writing the different parts of the lesson plan from the objectives, procedures up to the homework. If you have never written a lesson plan before, this is perfect for you to get started and even if you have written before, you can still learn from it.
Nothing to lose and everything to gain. Give it a try, enroll now and see it for yourself how it can open different windows of opportunities with this course.
How would you like to write your own lesson plan and tweak it anytime to fit the needs of your students? How would you like to be independent on the books and readily available lesson plans that are not suited to your students need?
So dive in, enroll now and allow me to help you boost your teaching career and lesson planning skills for your new world of teaching and educating students towards a bright future!
Worth $ 74.99 $14.99
MBTI Learning Styles for the 16 Personality Types
MBTI Learning Styles for the 16 Personality Types
Learn the value of knowing the relationship between an individual's MBTI personality and the corresponding learning style. Various learning and studying strategies will be introduced in relation to each of the sixteen MBTI personality types. Each of the sixteen personalities will be investigated, discussed and correlated with the most effective cognitive environment, learning preferences, descriptions and the most comfortable learning situations. Additional, specific study methodologies and assessment techniques will be shared.
Worth $ 49.99 $9.99
Effective Academic Writing: Write Papers that Get Results
Effective Academic Writing: Write Papers that Get Results
Learn to write an academic paper that is clear, effective, that makes you look good, and that is well-received.
Academic writing is not about grammar. It's not about fancy words. It's not about memorizing information or showing off new fonts.
It's about effectively communicating a complex idea, and backing that idea up with facts and compelling arguments.
"But I have good ideas!", you protest. "But I still don't get good grades!!"
That's because you haven't learned how to package and sell your ideas to your reader. I was a straight A student before becoming a professional editor. I have spent the past 10 years mastering the art of academic writing. I know how to get good grades, I know what you need to do to get them too. And in this course, I show you.
"I am a graduate student," you sigh. "I don't need some class talking to me about grammar. I need someone who knows that I have ideas that need to get through."
I understand about ideas needing to get through. I am a published researcher, and professional scientific editor. I have edited 100s of manuscripts at every level in the fields of psychology, social science, linguistics, engineering, education… I know what this kind of writing is about. And I know how to make it "sell".
Academic writing is a strict, rules-based form of communication. In this course, I take you behind the scenes and into the mind of your professor (or TA) or referee board. I give you the tips and tricks that I have gained through my years of experience and that work.
I have jam-packed the information you need into a series of lectures, course notes, and quizzes. This course is compact: I give you the information you need to excel, no time-wasters.
The lectures, course notes, and quizzes are complimentary and contain all the information you need to take your academic writing to the next level.
Students who will benefit most:
college students/undergraduates who need to boost grades,
grad students who need to take their writing to the next level (i.e., finish dissertation and get published!)
This course is NOT a grammar course. If you are looking for a course to take you through the basics of English grammar and style, I don't do that here. If you are looking for a course to help you kick some academic butt, enroll right now.
Worth $ 99.99 $19.99