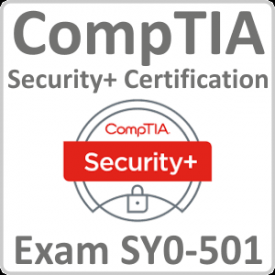 CompTIA Security+ Certification (SY0-401): The Total Course | Simpliv
---
Instructors
Country
India
Email
Description
Description
Welcome to the CompTIA Security+ Certification; SY0-401. The Total Course from Mike Meyers and Total Seminars.
This course covers everything you need to know to pass your CompTIA Security+ Certification SY0-401 Exam. The first goal of the course is to make you a good IT security tech and in the process make sure you are ready to pass the CompTIA Security+ exam. This course is over 10 hours in length containing over 80 video lectures.
The course covers all the CompTIA Security+ SY0-401 Objective Domains:
Network Security: 20%
Compliance and Operational Security: 18%
Threats and Vulnerabilities: 20%
Application, Data and Host Security: 15%
Access Control and Identity Management: 15%
Cryptography: 12%
Topics include:
Risk management
Cryptography
Authentication and authorization
Host, LAN, and application security
Wireless, cloud and mobile security
Environmental and personnel security and controls
This is a Total Security+ Course, it covers everything a good tech needs to know and prepares you to pass the CompTIA Security+ Certification exam.
Who is the target audience?
This course is intended for anyone that is preparing for an IT Security position or looking to improve their security skills and become CompTIA Security+ Certified. However, it goes beyond that and will give you the skills you need to be a better security tech on the job
Basic knowledge
Basic familiarity with PCs and networks
There are no specific prerequisites as the course covers all the topics in detail
It is a good idea to have an understanding of CompTIA A+ and Network+ or to be certified in these topics. You can learn more about these certifications from our Mike Meyers – Total Seminars CompTIA A+ and Network+ Certification courses on Simpliv
What will you learn
This is a complete and comprehensive CompTIA Security+ Certification; SY0-401 course. It is designed to prepare the student to be able to take and pass the exam to become CompTIA Security+ Certified
Once you complete the course you will have the knowledge and confidence to pass the CompTIA exam AND the skills to be a great IT security tech. This course is ideal as both a study tool and an on-the-job reference
Your new skills and the CompTIA Security+ Certification will help you land a great It security tech job or if you are already a security tech, get that raise or advancement you are after